'Harry Potter and the Cursed Child' Spoiler-Free First Reactions Are Coming In — It's Good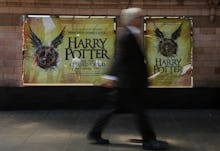 Watch out Hamilton, there's a new play opening up in London that might steal your thunder with a bit of magic. Well, maybe more than a little bit of magic is involved in the West End play Harry Potter and the Cursed Child, which had its first public preview on Tuesday. 
Suffice to say, many eager fans awaited to see what Potter and company have been up to in the 19 years between J.K. Rowling's final novel and the start of the Cursed Child. And if Rowling has her way, none of it will be spoiled on social media, either (per her orders, let's all #KeepTheSecrets). However, fans did take to social media to highlight the occasion and share their reactions to the first look at the play. Spoiler alert: People seemed to love it. 
Here's what else we do know: The Cursed Child features the Potter, Granger-Weasley and Malfoy children beginning their first year at Hogwarts, and of course, we'll catch up with their parents as well. The play will premiere on July 30, with the script to be released in stores the following day — which coincides with Harry Potter's birthday. 
In the meantime, for the Muggles who have seen the play, please #KeepTheSecrets. Otherwise, as Rowling said, you're a total Wormtail. 
Read more: JK Rowling Just Confirmed 'Harry Potter and the Cursed Child' Will Make You Cry