Here's What Happened When a Church Tried Speaking Up About White Privilege on Facebook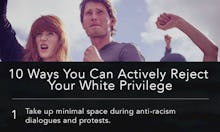 The United Church of Christ posted a meme on its Facebook page Saturday about white privilege — and only Jesus can fix what happened next in the comment section.
The meme titled "10 Ways You Can Reject Your White Privilege" outlined various ways white people can fight racism and reject their privilege — defined as a set of societal benefits that create undue advantages for them. 
The items on the list included: "Take up minimal space during anti-racism dialogues and protests," and "[realize] that all discussions about race aren't for you. And be OK with it." 
The UCC — which has over 900,000 members and 5,000 congregations — is 87% white, according to its 2015 statistical profile. 
The post garnered both praise and vitriol in the comment section — with the vitriol expressed a tad louder. 
One user called the list "down right (sic) disgusting and highly offensive," while another accused the group of "stoking racial tensions."
The comments below are only a small portion of many — since the post went up Saturday, it has garnered over 9,500 shares and 1,700 comments. 
The United Church of Christ's blog later ran an accompanying piece to the list that fleshed out some of its bullet points. 
For example, under point No. 9, which says not all discussions about race need to include white people, author Marchaé Grair wrote: 
Should black people say the "n" word to each other? Should Beyoncé express her pain by calling someone Becky? Some conversations aren't for white folks. They are intraracial critiques that don't require an ally's opinion.
The post, and the subsequent reaction to it, make it clear that white privilege — which is a real thing — is still a problem for people of color hoping to explain it and white people trying to grasp it. 
The United Church of Christ did not immediately respond to a request for comment.