This Weatherman Lost His Cool on the Air When He Noticed a Waterspout Looked Just Like a Penis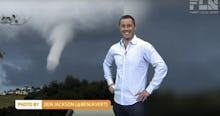 A New Zealand weatherman beamed with pride last week when he expertly pointed out something the average person — you know, who's not a meteorologist — may not know about tornadoes: Sometimes they look like dicks.
The weatherman was reporting on a photo a viewer sent in of a waterspout, the cylindrical vortex that appears over bodies of water. But why bother with the details? The weatherman zoomed out of the photo, asking, "When you take a step back is there anything else you see in this picture?"
As a female news anchor dissolved into giggles, her male colleague said, "Oh, Sam, you didn't have to say that! It's about as subtle as a sledgehammer, mate."
Sam couldn't move on, though, before drawing attention to nature's handiwork. 
"There's a lot of detail!" he said. "Well captured."
In this week's G-rated humor, meteorologist Sian Welby had her own fun on Tuesday when she re-enchanted a standard weather forecast with Harry Potter-themed puns. 
"We will see a few Sirius Black clouds moving in ... so Harry up, get your umbrellas," she advised the hosts of London's radio show Capital Breakfast. 
Given these two meteorologists' antics, it looks like next week's weather forecast is cloudy with a chance of jokes.
Read more: Meteorologist Delivers the Most Pun-Tastic 'Harry Potter' Weather Report