Flesh-Eating Bacteria Survivor Aimee Copeland Posts Inspiring Beach Bikini Photo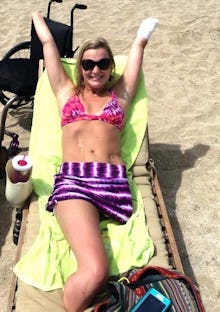 A zip-lining accident four years ago that caused a flesh-eating bacteria infection to take away both of Aimee Copeland's hands, one leg and one foot hasn't stopped her from enjoying the beach.
The Georgia native posted a now-viral Facebook photo Monday of herself sunbathing in San Juan, Puerto Rico.
"It has taken me a long time to become comfortable with and accept my new body," Copeland wrote in the photo's caption. "We are all made with imperfections and there is so much beauty in our flaws. The scars and skin grafting build character! It's not about what you have — what you do with what you have is what really counts."
In May 2012, Copeland was zip-lining across the Little Tallapoosa River near Atlanta when the line broke and she fell into the water, CNN reported. 
Her leg was gashed open, which made her susceptible to dangerous bacteria in the water. 
It took 22 staples to close her leg, but a few days later, Copeland awoke to pain and a rotting left leg, prompting her to revisit the emergency room. "Something just didn't feel right in my right leg," she told People. 
Copeland had contracted necrotizing fasciitis, a rare bacterial skin infection that destroys tissue. To save her from cardiac arrest, doctors had to amputate some of her abdomen, her legs, the remaining foot and her two hands. 
Since her accident, Copeland has become an advocate for people with disabilities — and an inspiring beachgoer.  
Despite her amputations, Copeland still enjoys working out, driving around and kayaking. She also has two master's degrees, one in humanistic psychology and another in social work, with goals to open a holistic community center for people with disabilities. "I've let go of the girl I was before," she told People. "I've completely embraced who I am."
Read more: This Quadriplegic Woman's Humorous Makeup Tutorial Shows Different Side of Disability