This One Tweet Perfectly Calls Out Whitewashing in Hollywood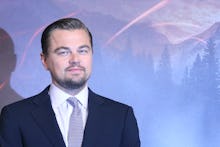 Hollywood screenwriter David Franzoni is reportedly working on the script for a film on legendary Muslim poet Rumi. Franzoni, who said he wanted to pay tribute to Rumi in hopes of shattering Muslim stereotypes, wants to make the biopic to "give him a face."
But according to the Guardian, Franzoni wants Leonardo DiCaprio to play the lead role. Franzoni is even considering Robert Downey Jr. for the role of the poet's spiritual adviser, the Shams of Tabriz.
If your goal is combatting stereotypes about Muslims, it seems odd to cast a white guy as the Persian poet. Franzoni wrote the script with a white actor in mind for the lead role, which raises two points about Hollywood: There are very few films that feature positive portrayals of Muslims, and few opportunities for Muslim actors to play Muslims. 
Twitter user Aayesha, a Muslim who hails from South Africa, points out the double standard with casting. Casting directors are willing to put an effort in finding Muslim talent for stereotypical roles, but not when casting for a positive and influential character like Rumi. 
She has a point.
When Muslims are cast in films, they are usually asked to play one of the four Bs: billionaires, burqas, belly dancers or bombers. High-grossing films like American Sniper, Indiana Jones, and even Aladdin feature Muslim actors portraying villains. Rather than challenge these depictions, casting white actors to play heroic Muslim characters suggests that Middle Eastern Muslims are only fit to play the role of savages.
Moreover, it perpetuates erasure of some of the most iconic figures in history. DiCaprio playing the role of Rumi may make the film more palatable to white audiences, but it whitewashes the "13th century Shakespeare." 
There are plenty of Muslim and Persian actors, a lot of them prominent in Hollywood, who are more than capable of playing Rumi. Shaun Toub, who comes from a Persian Jewish family and acted in Iron Man, is a good example. There's also Argo's Bobby Naderi, the Gladiators' Omid Djalili and comedian Maz Jobrani.
Jobrani — a "Muslim-ish" Iranian-American comedian and actor known for his appearances in The Nightly Show With Larry Wilmore, 13 Going on 30 and his standup performances — has mentioned that he often finds himself typecasted in stereotypical roles. 
After years of being casted as a terrorist, Jobrani wrote I'm Not a Terrorist, but I Play One on TV, where he pledges to never play the part of a terrorist in any film or show.
"Early on in my career I played a couple of terrorist roles and didn't feel good doing it. I have since declared that I won't do any more terrorist parts," Jobrani said in an email. "I don't mind playing other Middle Eastern parts like cab drivers or falafel store owners or whatever since I know those people in real life."
A 2010 Time poll finding 69% of Americans have never met a Muslim before, which means that the few portrayals of Muslims on television have an outsized impact. It's imperative to question and scrutinize Hollywood's whitewashing.