Meteorologist Delivers the Most Pun-Tastic 'Harry Potter' Weather Report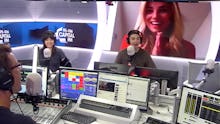 Just call her LOLdemort, because meteorologist Sian Welby had the hosts of London radio show Capital Breakfast laughing into their microphones when she delivered a Harry Potter themed forecast on Tuesday.
She packed more than a dozen Harry Potter puns into less than two minutes on air, including such gems as "Time to QuidDITCH that winter coat" and "a few showers will Slyther-in."
Welby ended her forecast with the quite excellent suggestion that everyone "Muggle together" outside for a nice barbecue.
The special theme of the weather report was a nod to the upcoming play Harry Potter and the Cursed Child, which started previews on Tuesday.
Read more: This Couple's Harry Potter-Themed Wedding Will Make You Cry Wizard Tears