Florida Police Find Alligator With Human Corpse in Its Mouth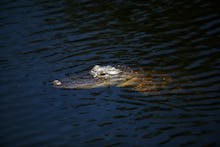 On Tuesday, police in Lakeland, Florida responded to a CSI: Miami-esque citizen 911 call describing an alligator cruising around a lake with a corpse, allegedly a man's, in its jaws. 
Upon their arrival, the police witnessed the alligator drop the body and swim around until trappers were called in to trap and kill it for a stomach examination. Right now in Florida is alligator mating season, which means that the reptiles can "store their food for some time" after an attack, Sergeant Gary Gross told People.  
Police have yet to determine the body's identity or if the cause of death was an alligator attack, but the body's state of decomposition has led police to think its been in the water for over a day.
On Saturday morning, someone had reported to the police that there was a backpack and clothes in the lake, as well as an aggressive alligator. The next day, on Sunday, police received a call about a large object being circled by an alligator, but couldn't locate anything.
There are currently no open missing persons who would fit the body's description, according to Gross. 
This isn't the first alligator-chewing-on-mankind situation that the police have come across recently. Just last month, two fishermen in the Everglades in Florida came across two alligators feeding on human remains. 
Read more: Polite Alligator Rings Doorbell to Announce Its Arrival Because That's How It's Done