Watch This Real-Life Wonder Woman Slay the 'American Ninja Warrior' Course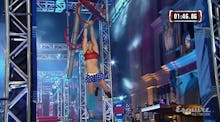 The obstacle course on American Ninja Warrior is notoriously hard — but professional stuntwoman Jessie Graff made it look easy when she competed in the Los Angeles qualifier round of the show last week and became the first woman to complete the new course in LA.
And she did it all dressed as Wonder Woman.
As her mom cheered her on, Graff, who has competed on past seasons of the show, took on the insanely hard challenges one-by-one.
She mostly made it look easy — despite the fact that countless people had already failed the course by the time Graff went.
There were a couple tense moments.
But, in the end, she conquered the epic Warped Wall like a champion.
Damn, girl. We'll see you at the finals.
Watch Jessie Graff's entire run here: