Bernie Sanders Superdelegates Urge Him to Step Aside After Hillary Clinton's Big Win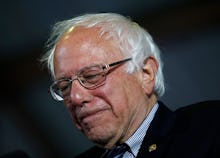 This wasn't the superdelegate shift Bernie Sanders wanted.
Top supporters of the Vermont senator's presidential campaign are abandoning ship after Hillary Clinton's historic triumph as the first woman to clinch a major party's presidential nomination, with the Washington Post reporting that Sen. Jeff Merkley of Oregon and Rep. Raul Grijalva of Arizona are publicly urging Sanders to step aside and help unite the Democratic Party behind Clinton.
Read more: Hillary Clinton Proclaims Historic Victory: "We All Owe So Much to Those Who Came Before"
"Once a candidate has won a majority of the pledged delegates and a majority of the popular vote, which Secretary Clinton has now done, we have our nominee," Merkley, Sanders' only supporter in the U.S. Senate, told the Post. "This is the moment when we need to start bringing parts of the party together so they can go into the convention with locked arms and go out of the convention unified into the general election."
Grijalva, a co-chair of the Congressional Progressive Caucus, echoed those sentiments, telling the Post that victory was "unattainable" for Sanders.
"At some point, when we're trying to flip 400 superdelegates, and it's not gaining traction, I think you have to come to the conclusion that it's not going to happen," Grijalva said. "You just move into a different direction. And that different direction is that we begin to try to integrate the party."
A devastating blow: Though Clinton has won 2,755 delegates — well above the 2,383 delegate threshold for clinching the nomination — that total includes 571 superdelegates, party elites free to vote for whomever they please at the Democratic National Convention. Pointing to national polls that show him performing better than Clinton against presumptive Republican nominee Donald Trump, the Sanders' campaign has stated that it will seek to flip superdelegates to its side ahead of the July convention in Philadelphia.
The linchpin of that superdelegate strategy was the delegate-rich California primary, where Sanders aimed to deal Clinton an embarrassing defeat that would renew doubts about her viability. But Clinton emerged victorious in the Golden State, outperforming her narrow polling lead and defeating Sanders by double digits.
Still, Sanders vowed early Wednesday morning to press forward with his campaign, telling supporters in Santa Monica, California, "We are going to fight hard to win the primary in Washington, D.C. [on June 14], and then we take our fight for social, economic, racial and environmental justice to Philadelphia!"
But with even Sanders' most fervent backers in the party calling for his movement to coalesce behind Clinton, the senator may reevaluate that hard-line stance in the days ahead.