In Statement, Brock Turner Says Alcohol — Not Himself — Is to Blame for Sexual Assault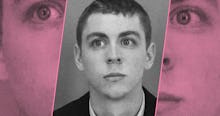 Brock Turner, who was convicted of three felony counts of assault and attempted rape of an unconscious woman behind a dumpster, has a few thoughts on who and what is responsible for the attack. None, surprisingly predictably, are himself. 
In a statement obtained by the Guardian, Turner blames "binge drinking," "sexual promiscuity" and "the party culture" as reasons for his behavior, noting that he'll no longer be able to compete at the Olympics, or get his degree from Stanford; that he lost jobs, his good reputation and "most of all, my life."
Turner describes how he would "give anything to change what happened that night," that he goes "to sleep every night having been crippled by ... thoughts [of the assault] to the point of exhaustion." 
In the letter, Turner told judge Adam Persky, who gave the 20-year-old just a six-month sentence, "I never want to attend a social gathering that involves alcohol or any situation where people make decisions based on the substances they have consumed." He continued, "These things force me to never want to put myself in a position where I have to sacrifice everything."
Nowhere in his statement does Turner accept responsibility for the brutal attack on the woman, but suggests that the media unfairly targeted him because of his swimming career.
"I wish I never was good at swimming or had the opportunity to attend Stanford, so maybe the newspapers wouldn't want to write stories about me," Turner told the judge in his statement.
In the statement the victim read to Turner at his sentencing hearing, she pointed out that alcohol wasn't his problem. "You were not wrong for drinking," she said. "Everyone around you was not sexually assaulting me. You were wrong for doing what nobody else was doing."  
According to the Guardian, Persky was "not convinced that [Turner's] lack of complete acquiescence to the verdict should count against him." Turner did say the experience "shattered" him. But it doesn't seem to have taught him anything. Despite undergoing a lengthy legal procedure during which the media, as he said, has written innumerable stories detailing the error of his ways, he still doesn't "exhibit sincere remorse or responsibility," in the victim's words, for what he — not booze — did.
Read more: One Horrifying Quote From the Brock Turner Case Shows Rape Culture Is Alive and Well