This 12-Year-Old's Viral Performance Has People Calling Her "the Next Taylor Swift"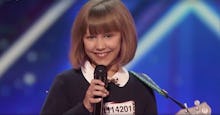 Simon Cowell has destroyed thousands of dreams over his tenure as a judge on America's Got Talent, The X Factor and American Idol.
He's gained a reputation as being one of the most cold-hearted talent scouts on television. But sometimes even his icy heart gets hit in the feels. 
It happened Tuesday night, when a 12-year-old ukulele player premiered an original tune on America's Got Talent. 
Almost immediately after opening her mouth and starting her song, she floored the audience. It sent Howie Mandel racing to hit the golden buzzer, sending her to the next round. It even forced kind words out of Cowell's mouth, as he declared this girl, Grace VanderWaal, to be "the next Taylor Swift."
With her unique voice, slightly reminiscent of Sia and Florence Welch, she could honestly be far more.
Read more: 30 Seconds of This Music Student's Song Had Pharrell in Tears