Is Bernie Sanders Out? Report of Vermont Senator Laying Off Staff Circulates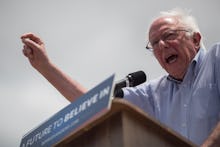 Fresh off a significant loss in the California Democratic primary and faced with a Hillary Clinton sweep in other states, Bernie Sanders has responded to news Clinton has clinched the Democratic party's nomination for president by planning major campaign staff cuts, according to a New York Times report published Tuesday.
Approximately half or more of Sanders' team will get the axe, two people close to the Sanders campaign told the Times. The majority of the layoffs will be in logistics and field personnel, primarily those responsible for coordinating and executing ground efforts in states about to vote.
There's no way around it — it's a clear sign the senator from Vermont has at a minimum conceded that drubbing Clinton's end run with wins in upcoming states is impossible, and at worst, it's a prelude to a suspension of his campaign. But so far Sanders has indicated he still wants to fight Clinton in the battle for superdelegates, appointed Democratic Party officials who will cast electoral votes at the party convention in July.
This is a long shot, to put it mildly. Sanders has so far failed to flip a single Clinton superdelegate. He will need hundreds.
So while Sanders technically isn't out, it's probable that the senator sees the writing on the wall. The rumored cuts signal the end of one phase of his campaign and the beginning of another even less likely to succeed. This is grim news for Sanders diehards, regardless of whether he's dropping out just yet.
Read more: 2016 Primary Results: Who's Winning the New Jersey, California and Other June 7 Primaries