Is Uber Doing Enough to Protect Women Drivers From Sexual Harassment?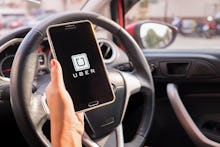 LaDonna Raeh knows firsthand what it's like to have all sorts of strangers in her car — and how they won't always leave her backseat without protest. 
Raeh, an Uber driver in Chicago, recalled a time she picked up a young, male rider who, when it came time to drop him off, insisted she kiss him before he would leave her vehicle.
"'Oh my god, your lips,'" Raeh, in a phone interview, recounted the rider saying. "'Could I just kiss you one time? I could die and be happy.'" 
Raeh, 41, gently refused the rider's advances and the interaction dissolved without further incident, she said. However, the experience wasn't an uncommon one for Raeh, nor is it abnormal for female Uber drivers like her. According to Raeh, who joined Uber to make a little extra spending money for family trips and is among the nearly 1 in 5 Uber drivers who identifies as female, women commonly face harassment from riders that their male colleagues typically don't experience. While unsolicited advances usually don't go beyond a few flirtatious remarks, male passengers have been known to ask women for sex or even put their hands on them. 
"About five times in about 1,000 rides, I've had a man that lets his hand wander over to my leg, touch my hand," a female Arizona Uber driver in her 30s told Forbes in April 2015.
Uber courts women — and fails. 
In March 2015, Uber tried to encourage more women to join its fleet when it teamed up with the United Nations for an initiative to hire 1 million women by 2020. Just a few days after the partnership's announcement, the U.N. pulled out as a response to criticism from the International Transport Federation that informal jobs, like Uber, would "not contribute to women's economic empowerment." 
If this is a long-standing issue for Uber, then what about taxi cabs? 
Currently in New York City, 31,298 medallion Taxi drivers are male and only 267 are female, which is less than 1%, according to the 2016 TLC Factbook. In the 1970s, female taxi drivers were driven out of the field due to high levels of crime, Allan Fromberg, New York City's Taxi & Limousine Commission's deputy commissioner for public affairs, said in an email. 
Some companies are being born from this very problem and want to cater solely to females, such as SheTaxi. However good their intentions, it's illegal in places like New York City for car services to discriminate based on gender, which is one reason why Uber will probably never offer the option to choose the gender of your driver. Plus, it's supposedly safer if a customer can get any nearby and available driver, rather than waiting around late at night for a female driver.
The only way to really make significant money is by driving on holidays like New Years Eve and July 4, weekend late nights or after big concerts — basically anytime associated with riders partying and consuming alcohol. Some women drivers even restrict the hours they'll operate based on when they believe riders are most likely to be intoxicated, and therefore more aggressive.
Uber's driver safety features — a step in the right direction?
Unlike customers, drivers are supposed to be pre-screened when applying to Uber, however the specifics vary state by state. In California, a third party looks at the driver's past seven years, in which their criminal history, including whether they're a registered sex offender, is analyzed. Potential drivers are compelled to provide personal information like their license and registration, insurance and social security number. 
Despite some roadblocks Uber has in place to weed out obnoxious or aggressive riders — the company's rating system, for one, allows drivers to rate riders for future drivers to see (riders also rate their drivers) — they don't go through the same rigorous screening process as drivers. Some female Uber drivers wonder whether Uber is taking the right steps to make reporting time-sensitive cases or bothersome riders easier. 
For a while, Uber was only contactable through email rather than by phone. A spokeswoman for the company said in a phone interview that Uber is currently unrolling a 24/7 "critical safety" hotline already available in 30 U.S. cities. Uber also has Incident Response Teams that specifically answer urgent complaints and a team of former law enforcement professionals who work with police. In a serious emergency, Uber would want someone to "call the emergency service number in your area," according to the company's code of conduct.
The company touts the rating system as what sets Uber apart from regular taxicabs, since everyone involved in a ride is being rated and, in theory, held accountable for their behavior in the car. 
However, these ratings don't exactly help in real time. "Just because you do a background check on somebody, that's not going to stop anybody from doing anything," New Jersey Uber driver Ciprianna Shockley, 43, said in a phone interview. 
Shockley recounted a time when a large group of drunk guys piled into her car on their way to a social event. "I doubt all five guys had a background check," she said, referring to Uber's rider rating system. Only the person who booked the vehicle through Uber's app would have had a rating. She added that nothing happened, but that she felt like she could have easily been outnumbered and overpowered. Of all her passengers, Shockley estimates that 99% are male. 
Shockley said she doesn't drive past 9 p.m. because it makes her feel nervous, but that avoiding those peak hours affects her bottom line. "I'm missing out on a lot of money, but at the same time I'm still not comfortable doing it," she said. 
For increased security, Raeh suggested Uber provide hidden cameras to its drivers, or smart phones that transmitted recordings of every drive. But ultimately, there are limits to how well Uber can actively stop harassment on drivers without literally having someone in the car with them, Tonya Osborne, a 42-year-old Nashville Uber driver, said in a phone interview. 
For now, the question continues to straddle the line between balancing drivers' and riders' safety and user experience. Raeh said she will often diffuse uncomfortable situations by thanking the men and telling them she's in a relationship, as opposed to rejecting their advances outright. The rider's don't phase Raeh, however; she said she considers them just part of the job. 
For everyone, even men, having a stranger in your car's backseat can be a safety concern. "I don't think it's on the level that women are concerned because we feel more powerless and vulnerable because we're women," Raeh said. 
Read More: