'Orange Is the New Black' Season 4 Prison Tension Will Reflect Black Lives Matter Movement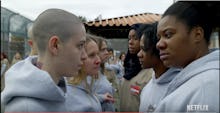 Netflix's original series Orange Is the New Black is no stranger to tackling relevant societal issues during its seasons — it's part of the reason why the show has garnered a plethora of Emmy nominations. Season four, it appears, will be no different. 
According to the Hollywood Reporter — which has viewed the season in its entirety — a large, timely focus of the new season will be an emphasis on Black Lives Matter, a movement that spotlights police violence against people of color in the United States, through the lens of its fictitious Litchfield Prison. 
"Danger is the underlying theme: Racial tension and danger," Selenis Leyva, who plays Gloria, said in an interview with the Hollywood Reporter, published Wednesday. "This season is definitely going to start up conversations that we're dealing with now."
To quickly recap: At the end of season three, we're shown an influx of new prisoners set to join Litchfield, which is now a crowded, for-profit prison. It's from the new inmates, and the new guards, that tensions begin to mount in the prison. 
Underscoring the Black Lives Matter movement makes the show among the latest television series to tackle modern racial tensions. Earlier this year, the ABC comedy Black-ish tackled police brutality with resonant social commentary in the guise of (mostly) comedy and drama. Given Orange Is the New Black's previous forays into societal issues — such as transphobia with inmate Sophia (Laverne Cox) — we can expect more deft storytelling from Kohan and Co. 
Even if, as the actors have expressed, it is the darkest season yet. "You've seen the tsunami when it swept through Japan, right?" Kate Mulgrew, who plays Red, told the Hollywood Reporter. "Not many people survived, but it's how they do it that is so absolutely captivating. That's season four."
Orange Is the New Black returns to Netflix on June 17. You can check out the trailer for new season below: 
Read more: The New Trailer for 'Orange Is the New Black' Shows Litchfield Prison at Its Darkest