Your Obsession With Steph Curry Is Really Good for Your Health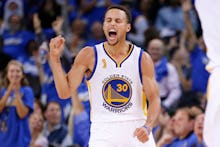 Stephen Curry, the 6-foot-3 point guard for the Golden State Warriors, got totally ripped on for his new Under Armour sneakers. They're reminiscent of notoriously unfashionable all-white shoes favored by dads and granddads in geriatric homes. A father of two daughters with wife Ayesha, Curry does happen to be a literal dad (sans lumpy dad bod). 
But anyone familiar with Curry's endorsement deals knows that he's got the good intentions of Full House's Danny Tanner with none of the dork factor. Okay, there's maybe a tiny bit of dork factor. Those shoes!
Regarded as one of the greatest shooters of all time, Curry advocating for healthy food and drink makes him the role model American kids desperately need and deserve. 
Curry's food endorsements are a notable exception to the NBA norm.
Many basketball players turn their swishes into cha-chings by engaging in lucrative endorsements with unhealthy brands. Lebron James endorses Coke, Blake Griffin reps Red Bull, Derrick Rose reps Giordano's, a Chicago pizza brand, and Kevin Durant was featured in an ad campaign for Sonic, according to Forbes. 
Curry was featured in a Burger King ad spot with his father Dell Curry, a former NBA player, during the early 1990s, but he's since distanced himself from greasy fare. 
These days, Curry's more likely to be broadcasting his love for Brita water filters instead of burgers. Yes, athletes drink water, but it's definitely not the hottest, coolest beverage out there.
But Curry has the power to make water sexy. Case in point: The sneakily seductive Brita ad spot below. 
"Water is my drink," Curry said in the Brita press release. "I like that Brita makes tap water taste good, so you don't need to spend money or waste plastic with bottled water."
A high-profile athlete plugging something healthy and good for the environment? Unheard of. 
Curry's endorsement choices stand out in a big way, considering the majority of athletes and music stars tend to cozy up to sugar-laden soda brands — ahem, Lebron, Christiano Ronaldo, Leo Messi. A recent study found that 80% of foods endorsed by music stars are nutrient-poor and energy-dense. 
Curry's not part of that statistic; he endorses brands he believes in, Jeff Austin, Curry's agent, told Sports Illustrated in December. Right now Curry also endorses Degree deodorant, Under Armour, JBL and Kaiser Permanent, Forbes reported. 
"The quality of the brand, the authenticity to his lifestyle, creative use of him, and, of course, a brand he uses himself is really important in a business relationship," Austin said. 
Curry doesn't shy away from being the face of something traditionally "uncool." 
In another Total Dad Move, Curry's also part of a national campaign to promote fruits and vegetables. Called "Team FNV," the campaign, which started in March 2015, is endorsed by FLOTUS. 
Curry's definitely the kind of dad who tells his daughters to finish their broccoli. His wife Ayesha has a forthcoming Food Network show and cookbook, and judging from the plethora of healthy recipes on Ayesha's site, odds are good veggies are a mainstay in that household.  
What makes Curry's dad choices so potent is his likability. 
Curry's endorsement score, a metric that shows how the public views him and whether they'd buy something he endorses, is pretty darn high, according to the Repucom Celebrity DBI metric. This metric factors in seven attributes including appeal, aspiration, breakthrough, trendsetter, trust and influence, according to Forbes.  
Curry ranks ninth overall, ahead of Oprah and Taylor Swift. Yes, ahead of Oprah and Taylor Swift. No joke. That means his healthy endorsements are all the more powerful and far-reaching, and from the sounds of murmurs across the internet, people aren't mad about it. 
Perhaps other superstars will follow Curry's lead by endorsing healthy hydration and nutrient-dense veggies in the years to come. Professional athletes hardly ever endorse tobacco products, though they did in the past. So it's a wonder why they're hawking sugar-laden sodas and unhealthy fast food joints that are the polar opposite of a healthy diet necessary for an active lifestyle.
Even if Curry starts busting out dad jokes while wearing his new geriatric shoes, America should still embrace the man. He genuinely wants us to be hydrated and eat our veggies. Aww, thanks, Dad! 
Read more: