Man Finds One of the Dirtiest Things Inside His McDonald's Burger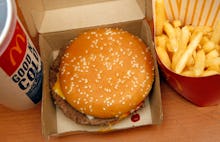 There's an endless slew of of fancy burger toppings to pick from these days such bacon, foie gras or truffles, but the best topping of them all is simply cold (or warm, we'll take whatever), hard cash.
Dave Cook, a resident of Chesterfield County, Virginia, stopped by his local McDonald's for a cheeseburger yesterday, but what he received wasn't just any old sandwich, reported CBS 6. Cook's burger came with a little extra cheddar — one with less protein but more buying power.
When he went to bite into his burger, he found a $20 bill sandwiched between the two beef patties. "I've heard of people finding strange things in their salad, but never finding something like this [in] a cooked burger," Cook told the news station. "I was in disbelief. I was like, 'Is this for real?'" He did not alert the store managers right away because he was afraid someone would ask for the bill back. (Though he was probably in the clear considering the cash was likely covered in burger grease.)
Cook added that two guys sitting near him at the McDonald's witnessed his discovery and commented "they had better check their burgers for cash too." Alas, it was only Cook that received the extra dough. The McDonald's location told the news station that it is unsure of how a $20 bill even made it into the burger.
It's a mystery that Cook isn't bummed about: He had ordered the burger off of the chain's dollar menu making it quite the return on his investment. Not only did he get a meal, he also made $19.
While it's safe to say hardly anyone would complain about free money, McDonald's should be getting at least a little flack for the very generous health violation that was committed. The dollar bill is a breeding ground for germs; one study found an individual bill can contain more than 3,000 types of bacteria, the Wall Street Journal reported.
Nevertheless, Cook seemed fine with putting his mouth where his money was. In the words of the Pusha T-penned jingle, it sounds like Cook was lovin' it.