Can Bernie Sanders Run as a Third Party Candidate? He Has Options — But It's Not So Simple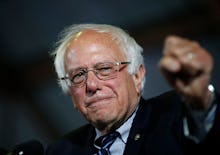 Now that Hillary Clinton has clinched the 2,383 delegates she needed to become the presumptive Democratic nomination for the presidency, things are looking grim for supporters of Bernie Sanders, the firebrand senator from Vermont who has promised the people a political revolution.
In light of Clinton's near-certain nomination at the Democratic convention in July, here's what Sanders could theoretically do to stay on the ballot until election day rolls around.
One option: He could run as an independent — but it's not as easy as it sounds. 
A petition on Movement4Bernie.org calling for Sanders to run as an independent has already amassed nearly 68,000 signatures, but the logistics themselves aren't so simple.
According to Ballotpedia, an independent presidential candidate would need to submit petitions in nearly all 50 states just to be allowed onto the ballot in the fall, with varying signature counts required for each (the site estimates that over 880,000 signatures would be needed in total).
And for some states, like Texas and North Carolina, the filing deadlines have already passed — meaning that Sanders technically already isn't eligible for an independent ballot slot there.
Option two: He could run on the Green Party ticket. 
Dr. Jill Stein, the Green Party's likely nominee, has made news recently for her rallying cries to both Sanders supporters and Sanders himself. According to CNN, Stein's camp has reached out to the Sanders camp multiple times in recent months in the hope of a "collaboration." 
Stein herself penned an open letter to Sanders, in which she wrote: 
"I would love to explore with you collaborative ways to advance that effort and ensure the revolution for people, planet and peace will prevail. Please let me know if you're interested in talking," Stein concluded.
Though the Green Party Presidential Nominating Convention isn't until August, and the requirements for qualifying as a candidate are fairly straightforward (having a petition signed by 100 Green Party members and fundraising $5,000 are on the list), Stein says that so far she's heard nothing but radio silence from Sanders about that aforementioned "collaboration."
Those are potential courses of action that Sanders could take, in theory, if he was so inclined. But both options seem about as possible as, say, convincing the more than 400 superdelegates who have pledged their support to Clinton to change their votes in his favor.
For now, it looks like Sanders supporters who are upset with the nomination process might just have to take a deep breath and start tweeting their frustrations.
Read more: #ThankYouBernie Reveals Bernie Sanders Has Already Had a Profound Impact on Our Nation