Connecticut Teen Sentenced To 25 Years For Killing Girl Who Wouldn't Go To Prom With Him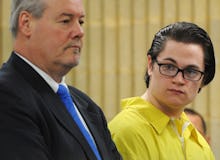 On Monday, 19-year-old Christopher Plaskon was sentenced to 25 years in prison for fatally stabbing a classmate at Jonathan Law High School who didn't want to go to prom with him.
According to the Chicago Tribune, he pleaded "no contest" to murder in March for killing classmate Maren Sanchez in April 2014, after she rejected his invitation to the school dance. She was killed on the same day as her junior prom. Several students gathered for a memorial photo with an unworn prom dress to honor her memory.
Unfortunately, Sanchez is not the only young woman murdered for rejecting a male suitor. More than 14 American women were violently attacked between January 2015 and February 2016 alone for declining men's invitations. So far in 2016 the stories death toll continues to pile up. Pennsylvania woman Janese Talton-Jackson was shot dead in the street outside a bar for not reciprocating when a man expressed interest in her. 
And it's a global phenomenon. Just last week, a Pakistani woman was beaten and burned to death after rejecting her boss' marriage proposal. These kinds of violent outbursts from spurred male suitors are so commonplace that a Tumblr blog called "When Women Refuse" started curating a combination of news reports and personal stories, racking up tales of everyday violence from around the world. 
The stories all have one disturbingly common theme: For women, getting asked out isn't always flattering. Sometimes, it can be terrifying.
It's not only strangers attacking women who turn down their advances. According to statistics published by the U.S. Department of Justice, most murdered women were killed by someone they knew, while only 10% were killed by a stranger compared to 29% of male murder victims. 
This Connecticut murder may have been another case of authorities failing to heed warning signs. Following Sanchez's death, her parents filed a lawsuit against the school, alleging administrators didn't do enough to protect their daughter from Plaskon. According to the lawsuit, Sanchez had warned her guidance counselor that Plaskon "was threatening to commit suicide or acts of serious self-harm by cutting himself with a knife" five months before her death. The lawsuit alleges that Sanchez's guidance counselor told Plaskon's guidance counselor about the threats, who then failed to advise the authorities as required by school policy and state law.
Regardless of whether Sanchez's school bore any responsibility for her death, one thing is clear: The Connecticut case is a tragic example of the broader social issue of men and boys lashing out when rejected, simply because they feel entitled to women and girls' bodies. Sometimes the backlash consists of a barrage of verbal abuse on social media; however, other times it can be far more dangerous. 
Correction: June 9, 2016