Powerful Facebook Post Highlights a Double Standard in Rape Culture Often Overlooked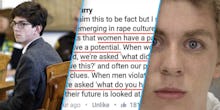 Brock Turner's six month-long sentence for sexually assaulting a woman at Stanford University has fueled a tornado of internet rage. 
And that he's being characterized as an "athlete who made a mistake" instead of a "criminal who can also swim," highlights the bias and privilege awarded to men with regards to sexual crimes. 
Facebook user Louisa Curry has had enough of this. And her post nails why we should all as well:
Turner's dad said his son's life had been "deeply altered forever" by "20 minutes of action." All because he lost his swimming scholarship at Stanford. 
Meanwhile, the victim was interrogated about whether what she was wearing could have provoked the assault.
The Brock Turner case is not an exception.
For example, Owen Labrie: The 20-year-old was convicted of sexually assaulting a 15-year-old girl in March, and the media framed him as a bright, young man whose academic potential was wasted by committing sexual assault — not a criminal.
"His dream of attending Harvard Divinity School was derailed," an excerpt from the Boston Herald, about Labrie seeking another trial, read.
Labrie, who was originally sentenced to a year in jail, was released after two months in May. 
"For someone who's never been incarcerated one hour, two months can be a very long time," Labrie's lawyer Jaye Rancourt said.