Far From Buenos Aires' Tourist Traps, Street Artists Are Giving a Voice to the Voiceless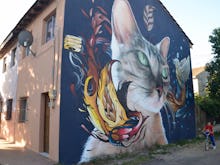 The late-day sun illuminated the street around us as we stepped out of the car in Isla Maciel, a predominantly poor neighborhood on the outskirts of Buenos Aires. As we ascended a nearby set of stairs leading to the entrance of an elementary school and made our way through the lobby, a mural in the corner jumped out at me.
It depicted a skeleton with spiked shoulder straps, his face pointed down toward a microphone. He was draped in a distressed American flag, his eyes projecting rage. With his sharp features accentuating his boxy figure, it was reminiscent of a documentary I'd once seen on Cold War propaganda.
Isla Maciel lies just a stone's throw across the river from Caminito, a well-known tourist trap boasting $15 crepes, tango dancers that sensuously wrap their legs around you for tips, and local craft shops with a suspicious number of "Made In China" labels. For the past several years, a compelling story has been unfolding in Isla Maciel, home to nearly 5,000 residents boxed in by the river on one side and a bustling highway on the other.
"The difference between classes isn't just about money; it's about access to information and culture."
A diverse group of young artists have been working to create better conditions for the people living here, and they've proposed an unusual solution: to cover every inch of this blighted neighborhood with street art and murals like the one in the school's lobby, which was painted by a 13-year-old. Their hope is that the art will bring a source of pride to a community with no landmarks to speak of, and help give a voice to people living on the margins. 
"The difference between classes isn't just about money; it's about access to information and culture," said Milu Correch, a talented and fiercely opinionated 24-year-old Argentine street artist who was acting as my tour guide for the day. Correch is a member of PINTÓ La ISLA, the collective of artists and community organizers that has been running mural painting workshops in Isla Maciel since 2014. 
"In Isla Maciel, there's no library," she said. "I had never seen a gun before coming here, but to most of the people in these neighborhoods, they've seen far more drugs and guns than books." 
Street art takes center stage in Argentina.
Long before Banksy's ubiquitous stencils brought the awareness of street art to the masses, muralists have been using the abundance of abandoned buildings across Buenos Aires to turn the city into one of the world capitals of street art. Lax regulations in this city place few restrictions on where street artists can find their next canvas, only requiring permission from the building owner. This elite status as one of the world's foremost capitals of street art was validated in 2014, when Buenos Aires was chosen side-by-side with Paris as Google's first partner for the launch of the Google Street Art Project.
Isla Maciel is fast becoming one of the most exciting displays of street art in the whole of Argentina, despite still being far too dangerous for the ordinary tourist to visit. The organizers behind PINTÓ La ISLA, which translates to "painted the island" in English, are also looking to eventually capture some of the tourism that has brought prosperity to their neighbors in Caminito. Milu and other artists go door-to-door, getting permission from local residents to cover their homes in vibrant sunflowers, magical cats and dizzying geometric images.
"I had never seen a gun before coming here, but to most of the people in these neighborhoods, they've seen far more drugs and guns than books."
Despite these vibrant murals, don't expect to find Isla Maciel along any walking tours; it's notorious among porteños — people born and bred in Buenos Aires — for both its legacy as the city's former red light district and, now, for stories of its unceasing violence. Its seedy history makes the fact that this neighborhood has become the unexpected laboratory for some of Argentina's best street artists makes it all the more surprising. Half of the murals in Isla Maciel are painted by local children through the collective's workshops.
Murals often remember a bloody past — and current tensions.
The skeleton painting I first encountered in that school in Isla Maciel represents a surprisingly common thread in Buenos Aires: anti-American sentiment. Argentinians don't hate American values, per se, but rather their perception of how the bastardization of those values has manifested in their country. It's an environment primed by an older generation that lived through the dark period of Argentina's "Dirty War," which saw the United States condone and in some cases tacitly support brutal abductions and murders by the military regime. 
The military rule lasted seven years, during which time thousands of Argentineans were killed or disappeared. Despite occurring decades ago, it's still on the forefront of many citizens' minds. Some of the people who went missing during the Dirty War are memorialized in other paintings spread throughout the Isla Maciel school. 
"It's a provocation, it's our date." 
Milu wears her passionately leftist political views as a strong badge of honor, and was among tens of thousands of Argentinians who poured into the streets of Buenos Aires during President Barack Obama's March visit in protest. It was the scene of American flag burnings, with banners stretching the length of half a city block exclaiming "Go Home Obama." It was the first visit by an American president in nearly 30 years and just happened to coincide with the 40-year anniversary of the bloody military coup that led to endless state-sponsored murders.
"It's a provocation, it's our date," Nora Cortiñas, an activist with the Mothers of Plaza de Mayo, told the Guardian in March.
Many saw Obama's visit as adding insult to injury. It wasn't exactly the image that either government hoped to portray; Obama's itinerary was modified several times to avoid provocations, but those changes failed to keep protesters at bay.
Milu was visibly exacerbated when she spoke about the deference paid to the American president. She called the recent protest over Obama's visit "one of the largest protests in recent memory," one that was barely covered in the media. "But I can tell you every dish that Malia and Sasha Obama ate when they visited a sushi restaurant in Palermo Hollywood," which is one of the wealthier neighborhoods in Buenos Aires.
Street art: a path to something better?
As Milu led me down the stairs of the school to traverse the city streets, Isla Maciel had come alive. Toddlers crawled around within view of their parents and a teenager zoomed by on a skateboard. He looked no older than 12 or 13, the same age as the authors of many of the paintings inside the school.
As a high school student growing up on the periphery of Buenos Aires, Milu was surrounded by far better circumstances than the children of Isla Maciel. As an artist, she was initially interested in filmmaking, but quickly saw it as an "elite" art largely inaccessible to the majority of Argentinians. In searching for an alternative form of creative expression, she stumbled upon a muralism workshop, which built off her hobby of sketching. Now, she has made a career out of her street art, some of which spans entire city blocks. 
"When I visited Spain to paint, I met all of these people complaining that 'the government doesn't give me the job I want," Milu recalled, rolling her eyes at the absurdity of what she saw as institutionalized entitlement. For the children of Isla Maciel, she hopes something much better: that they can use their creativity and ingenuity to lift themselves out of poverty. 
"In Argentina, we never thought that we deserved anything from the government, so we make for ourselves," she said.