The "Richard Simmons Is a Trans Woman" Rumor That Facebook News Decided Was Real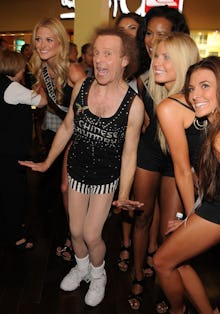 On Wednesday, Facebook's "Trending News" feature signal boosted a story first reported by the National Enquirer, which claimed that eccentric fitness guru Richard Simmons is a transgender woman.
The Enquirer story claimed that Simmons now identifies as "a softly spoken woman named Fiona," and that he has undergone two years of secret surgeries to medically transition.
But Simmons, 67, wasn't and isn't transgender, according to a press statement from spokesman Tom Estey. Though he was admitted to the hospital on Friday for what TMZ reported as "incoherent behavior," Estey told People that the reports of transition were false.
In a Facebook post, Simmons himself wrote, "I was dehydrated and needed some fluids and now I am feeling great!" and thanked fans for their concern and support.
So why would Facebook — the same company that in May said it has "rigorous guidelines in place for the review team to ensure consistency and neutrality" in its Trending News section — publish single-source tabloid stories on topics as sensitive as sex reassignment surgery? 
Facebook has increasingly become a source of hard news for many Americans. A May 2016 poll by the Pew Research Center examined which social media sites people use to get their news and found that Facebook leads the pack, with two-thirds of its users (66%) getting hard news from the site.
That means Facebook now shares in the rest of the media world's responsibility to get the story right.