How to Make Cauliflower Rice, the Simple Ingredient That'll Make Any Recipe Healthier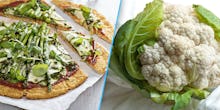 Trying to #LiveYourBestLife and add more vegetables to your diet? Take a chance on cauliflower.  The white veggie is basically the antithesis to all other white, processed, nutritionally-void foods. 
When processed into teeny tiny bits, cauliflower makes an A-plus rice substitute that happens to be low in calories and carbs. A one-half cup serving of cauliflower has 14 calories and delivers 46% of the daily recommended intake of vitamin C and 11% of vitamin K. 
What to do with a bunch of cauliflower rice? You can make fried rice, low-carb pizza crust, burrito bowls. The sky's the limit. Can we get a hell kale yeah? 
Here's how to make cauliflower rice: 
1. Cut your cauli head into two pieces. 
2. Break the pieces into small florets. 
3. Put the florets into a food processors and blend until completely pulverized. 
4. Put the pulverized cauliflower into a microwave-safe bowl, and microwave for six to seven minutes. (You can also cook it in a coconut oil-coated skillet over medium-high heat on a stove.)  
By itself, cauli rice is a bit bland, so you'll want to liven it up with some seasoning. Amp up the veggies by following this easy recipe for cauliflower fried rice, or make nourishing burrito bowl featuring beans, mango, and avocados with this recipe. Pair it all with a margarita and there you have it: Perfection.
Read more:
•  "Crack Cauliflower" Is the Mouth-Watering, Veggie Snack Even Carnivores Will Crave