Justin Bieber Really Doesn't Want These Photoshopped Nudes Online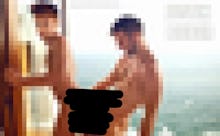 Justin Bieber is sick and tired of his face being superimposed onto porn. 
There are at least 120 Digital Medium Copyright Act takedown requests to Google made on behalf of Justin Bieber in Harvard University's Lumen Database. 
Justin Bieber's takedown requests — many of which are filed by Web Sheriff, the same service Axl Rose just used — mostly cite copyright infringement. Browsing through the links included in the requests, it appears that most of the images have been removed — but there are also several that haven't. And they are... graphic. There are nearly 30 graphic images in this takedown request alone, and as of the time of writing this, most of them are still up.
Here's a very rough idea of what they look like:
This is what happens when those with photo editing software behave badly — some evil geniuses digitally altered Justin Bieber's pouty face onto well-endowed male bodies. One even includes fellow heartthrob Louis Tomlinson. 
Is creating vulgar photos of someone legal? As of 2013, it wasn't clear; a Georgia state representative co-sponsored a bill that would make superimposing someone's face on a nude body a crime. And at a time where even sextortion — blackmailing someone with sexually explicit videos or photos — isn't illegal, it's not surprising that the laws haven't caught up to the digital age where anyone with access to photo editing software and the internet can post a nude photo of "you" online. 
Justin Bieber filed these graphic images as a DMCA takedown request — but unless he owns the nude male images, this isn't a copyright infringement issue.
If it was a private photo he took himself, he might have a better chance of wiping it from the web. Jennifer Lawrence also filed a DMCA copyright complaint to Google over images leaked during "the fappening" — those have been removed. 
As for Bieber... we just blogged to say that we're sorry.