Justin Bieber Frees the Nipple All Around the World In His New "Company" Music Video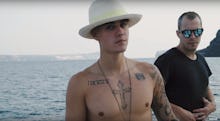 Justin Bieber is showing off the company he keeps — and his decently chiseled body — as he jet sets across the globe on his Purpose World Tour in a brand new music video from his song "Company."
The Biebs has a tough time keeping his pants on, as seen in multiple shots of his behind throughout the video. Is this subliminal Calvin Klein advertising? 
Bieber's company is the male equivalent to Taylor Swift's girl squad. The video, released Wednesday by Vevo, features cameos from some of music and entertainment's biggest names. From Big Sean to Floyd Mayweather, the 22-year-old clearly has friends in high places. To top it all of, he's even got Kanye West cheering him on backstage in one shot.
The Biebs is having a moment: With his world tour, consistently chart-topping singles off his recent album Purpose and an upgrade on his merch, fans are being given an extra dose of the Canadian hitmaker recently. And they're taking in every inch.
Check out the video below:
Read more: Justin Bieber's Face Tattoo Artist Revealed the Tattoo's Meaning