Iskra Lawrence's New Unretouched Photoshoot Shows Fit Bodies Come in All Shapes and Sizes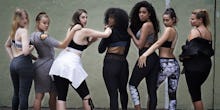 From reclaiming her cellulite, scars and freckles to shutting down the thigh gap debate once and for all, size 14 English model Iskra Lawrence has been an outspoken advocate for body positivity. It's a subject she takes seriously, so much so, she's made it her job, serving as the managing editor at RunwayRiot, a fashion, style and beauty site for women of all sizes.
The site debuted Wednesday its first editorial spread featuring Lawrence alongside "smoldering body-positive megababes" Chloe Vero, Laney Degrasse, Victoria Gomez, Chloe Marshall, Ash Walker, Fiona Falkiner and Michelle Vawer all fashioned in athletic wear — and the images entirely unretouched.
Look familiar? The shoot is an homage to the 1995 classic Clueless.
"I was inspired by the Clueless gym scene and I was determined to style these women in snug clothes in black, white, gray and deep blue," the shoot's creative director and stylist, Ashley Hoffman, wrote in an accompanying post. "I envisioned an army of women — all tough stares and power stances banding together in the name of body positivity.
"I wanted it to be cool, not a sweet slumber party."
Lawrence has been a vocal proponent of unretouched photos, appearing as the face (and body) of the Aerie's #AerieReal campaign earlier this year.
Why does Lawrence subscribe to an authentic ideal so many fight against with apps like FaceTune, Instagram and Snapchat? "It makes me feel good enough not just as a model, but as a human," she said in the post. "If I can't relate to my own body, how can anyone else?"
Lawrence is one of a burgeoning group of people pushing back upon fashion's antiquated ideals for the size and shape of models. From Ashley Graham to Barbie Ferreira to Zach Miko, models of all sizes are continuing to forge paths for themselves within a once-insular industry. Further, they're doing it without conforming, rather boisterously using their platform to speak to an issue that so many face: that of not seeing their body reflected in advertisements.
Furthermore, RunwayRiot's editorial shows that being fit does not necessarily mean fitting into a Kylie and Kendall Jenner swimsuit. Fit does not look one certain way, more importantly, it is not for someone else to determine about another person's body.
So what change does Lawrence want to see next? "More inclusion and the celebration of diversity," she said. "Brands that have larger sizes to start lending samples for editorials and investing in advertising also." If anyone's got brand's ears at the moment, it's Lawrence. 
Ball's in their court now.
Read more: