The Victim in the Brock Turner Rape Case Has Released a Second, Powerful Statement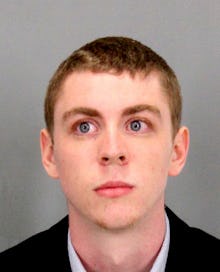 So far, the victim in the Brock Turner rape case — the unconscious woman whom the 20-year-old sexually assaulted behind a dumpster in 2015 — has opted to keep her name out of the media. In a statement released to KTVU Fox 2 on Tuesday, she explained exactly why.
"I remain anonymous, yes to protect my identity," she said. "But it is also a statement, that all of these people are fighting for someone they don't know. That's the beauty of it. I don't need labels, categories, to prove I am worthy of respect, to prove that I should be listened to."
"I am coming out to you as simply a woman wanting to be heard," she continued. "Yes there is plenty more I'd like to tell you about me. For now, I am every woman."
At Turner's sentencing hearing, the victim read a powerful statement directed at him, which she wrapped with a message to "girls everywhere."
"I am with you," she said. "On nights when you feel alone, I am with you. When people doubt you or dismiss you, I am with you. I fought everyday for you. So never stop fighting, I believe you."
Turner's statement to the judge has also come out. In it, he blames alcohol — not himself — for the assault he committed. He's been sentenced to six months in jail, prompting widespread outrage and calls for the presiding judge, Aaron Persky, to recuse himself. 
Read more: One Horrifying Quote From the Brock Turner Case Shows Rape Culture Is Alive and Well
Read more: The Brock Turner Case Shows That Bystander Intervention Actually Works
Read more: Meet the 2 Men Who Caught Brock Turner in the Act and Held Him for the Police