The Sneaky Way Brands, Bloggers And Celebrities Are Getting You To Buy Clothing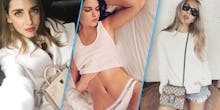 When fashion blogger and L'Oréal ambassador Kristina Bazan shows off  a "gem" of a handbag to her 2.3 million Instagram followers or when top fashion influencer Chiara Ferragni of The Blonde Salad shares her favorite mascara for a morning jog, it seems to viewers like insider information, or a hot tip. 
That, after all, is the beauty of fashion bloggers. Real people following real trends and sharing the products that make their glamorous lives possible. Right?
Well, think again. Getting fashion inspiration from Instagram influencers often means wholehearted product recommendations aren't always as genuine as they seem.
Welcome to the murky world of sponsored posts: from the Kardashians shilling weight loss teas to Danielle Bernstein of @weworewhat making upward of $15,000 per post promoting everything from make-up to hotels.
There's no problem when those paid to pose with products admit that's what they're doing, usually through hashtags like #ad and #sponsored or — as in the unfortunate case of Scott Disick — by simply posting the PR email as the picture caption. Sure, the Kardashians may not need the money, but most of us understand that bloggers are doing a job and need to get paid.
But when it comes to fashion promotion, many bloggers are less than transparent with their followers, blurring the line between call-out and endorsement. Julie Zerbo, founder of The Fashion Law blog, recently published an investigation into opaque sponsorship practices and found big blogging names like Chiara Ferragni repeatedly failed to disclose the financial incentives behind their product photos by not clearly signaling sponsorship with the appropriate hashtags.
"Many are well aware of the legally mandated disclosure requirements but are under the impression that if they disclose that something is an ad, consumers will respond with less vigor — and, as such, their behavior is really quite deceptive," Zerbo said in an interview, explaining that many bloggers swap "#ad" for something more vague, like "#partner." Some don't do even do that.
"It stems from the exact reason why personal style blogs were so popular in the first place," Zerbo said. "They were deemed to be more authentic than traditional media as the content was dictated far less by advertisers and other behind-the-scenes interests."
The why behind the wear: So what, right? Sure, bloggers aren't always being straight-up with the public, but how many people are really buying what they're selling?
More than it might seem. According to WWD, Rachel Parcell of the Pink Peonies blog reportedly drove $1 million in online sales for Nordstrom over the 2014 holiday period, while ShopStyle Collective reported a more than 300% year-on-year rise in blogger-related sales in December 2015.
Retailer Lord & Taylor found itself in hot water with the U.S. Federal Trade Commission when it paid 50 influential people on Instagram to post pictures wearing the same dress last year. Those who posted it didn't disclose they'd each been given thousands of dollars to rock the paisley print, which sold out in days.
"Bloggers bring credibility to a brand or product. For the most part, people follow bloggers whose opinion they trust and respect. Many bloggers are really amazing at forming relationships with their readers and therefore those bloggers have amazing conversion rates," fashion blogger Melanie Becic said in an interview.
"Do influencers lead to greater brand awareness? Absolutely," Zerbo said. "Their endorsements of a brand and its goods, which can really be as simple as posting a photo on Instagram, have a large effect on what brands are hot at any given moment."
But it's not just brands that benefit. Bloggers like sponsored posts too, and not only because they're making bank.
"I think that visibility is another motivation. If you write a post about a product and get featured on the website or social media account(s) for that brand, you may get a lot of exposure and gain new followers," Becic said.
The only people losing out in this financial fashion equation? The consumer. But perhaps not for long.
The legal issues: Simply put, advertising by deception is not legal. Zerbo makes clear that FTC regulations around promotion "apply to bloggers in the same manner as they apply to more traditional entities, such as magazine publishers and television broadcasters."
That means that Aimee Song's brand ambassador deal inked with Laura Mercier in April and reportedly worth half a million dollars is likely already violating regulations, according to Zerbo. But until now, bloggers haven't been too worried about disclosure, because the law has only gone after the advertisers themselves and sidestepped their ambassadors.
"Some brands and bloggers simply have not educated themselves enough around the responsibilities and guidelines around this type of business relationship," Sharon Herzog, founder of media and blogger database Fashion PR Girl, said in an email interview.
"Some bloggers consider sponsored posts 'selling out,' but if they are trying to build their fashion-blogging business in some way, they will have to face the responsibility of communicating to their audience that they are building a business which needs to generate revenue in order to be able to continue producing unsponsored and quality content for their readers."
And Zerbo predicts that bloggers won't get away with shielding sponsorship for much longer, noting that "as indicated by the monetary sums at stake and the truly enormous followings that these influencers have, the stakes are very high."
Herzog said bloggers should always include "#ad" or "#sponsored" in their captions (and not in the comments) to make sure they're in the clear. And while some gray areas exist, such as when bloggers receive free products to review, "bloggers should take the responsibility themselves" — not just to keep on the right side of the law, but also to be fair to their readers.
"I strongly believe that bloggers should disclose whether or not something is an ad or sponsored. I think that goes with being honest with your readers. If a blogger does not want to disclose that something is sponsored or an ad because they are worried that the readers would react adversely to it, they have not build a good enough relationship with their readers," Becic said.
But while the legal landscape looks set to inevitably force bloggers toward greater transparency, for now many are still posting deceptively unclear sponsored posts.
So when you see your favorite bloggers wearing a cutout bikini at the beach or sipping cocktails in a slip dress this summer, remember that everything isn't always as it seems.