'Ghostbusters' Old and New Come Together on 'Jimmy Kimmel,' Talk Misogyny New Cast Faces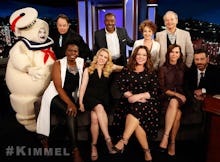 Sorry, haters: Whether or not the all-female Ghostbusters remains the most disliked movie trailer on YouTube, it's still going to be released in July. What's more, despite the online backlash, the original cast absolutely loves the reboot — and really, their opinion matters most of all. 
The cast of Ghostbusters old and new came together Wednesday night on Jimmy Kimmel Live! for Ghostbusters Day. Original lead Bill Murray had plenty of praise for the new film. Particularly, as he pointed out, because it was such a hard concept to pull off with very high expectations. However, by the end of the film, Murray said he and the rest of the original cast were "screaming, cheering like we were at a sporting event at the end of it." 
The new cast also discussed the misogyny-driven internet hate for the film. As Kimmel noted, it's pretty hard for some people to take in, since "only men can fight imaginary ghosts in a make-believe movie." Melissa McCarthy put the source of the backlash into better perspective. 
"What they don't say when they're typing is that one minute after they type that, their moms are like, 'Get upstairs and take out the garbage!" she said. "You're 45 years old!" 
The cast of both Ghostbusters movies ended the night proving they ain't afraid of no ghosts — or online misogyny — by boogying down to the theme song with the help of Ray Parker Jr. in the spirit of what these movies are actually about: having fun. 
Read more: 'Ghostbusters' Is the Most Disliked Trailer on YouTube, Proving Misogyny Wins in Droves