People Are Confusing a Black Hair Product With Cooking Spray, and Twitter Just Can't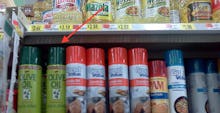 Coating a muffin tin with hair product isn't a kitchen hack. It's straight up gross.
A popular shine treatment for Afro-textured hair has been commonly mistaken for olive oil cooking spray, Metro reported. 
Carol, a student in London, picked up on the mistake when she was visiting a friend's house noticed hairspray lurking in the pantry along with other oils and spices. She later Facebook messaged her friend Róisín, who posted a screenshot of the conversation to Twitter. 
"I'm at my white friend's birthday. Just spotted this in the kitchen," Carol told Róisín. "They've been cooking with it." 
The tweet has been shared over 13,000 times since Monday. 
The product's label specifically states in red at the top of the can that it's an organic "root stimulator." The packaging also explicitly says that it provides "natural, healthy sheen to dry, thirsty hair." Anyone outside the UK can buy it for roughly $9 on Amazon. 
And, um, it really shouldn't be used as a cooking ingredient. Ingredients include parrafium liquidum, isobutane, isopropyl myristate, olea europea fruit, among other unpronounceable ingredients often found in hair-specific product. Yum? 
Turns out, this isn't an isolated mixup. One Twitter user responded that an archived photo of the hairspray comes up in a Google search for olive oil cooking spray.
"Madison told me my stuffed shells tasted like perfume a couple months ago," one person noted about another brand of olive oil sheen spray. "Guess it's because this is actually hairspray!!!!" 
Yet another user pointed out that even stores are getting the hairspray confused for olive oil. The product is being shelved right next to other cooking spray products. 
Moral of the story? Read those labels. Every inch of 'em. 
Read more: