Kendall and Kylie Jenner's New Swimsuit Line Is Perfect — For People Without Pubes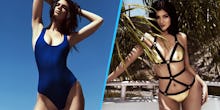 At long last, Kendall and Kylie Jenner, the internet's favorite pouty reality siblings, have released their swimsuit line in collaboration with Topshop. Our suffering is over. We are now free. 
In the build-up to this momentous occasion, the youngest Jenner has been posing in some of the collection's steamiest looks, including a gold lamé bikini that appears to be bondage-inspired and a bright yellow bikini that would undoubtedly give you absurd tanlines. The excitement is palpable, but here's a warning for anyone who's interested in snagging a bikini or one-piece from this line, which varies in price from $98 to $30:
If you have pubic hair that you'd like to keep private, nearly all of these swimsuits will be absolutely impossible to wear. And that's a big bummer given how young women on the internet are having a more vocal conversation about the choices they have when it comes to personal grooming. 
In that case, let's run through a few of the suits, starting with the select few you can wear if you have pubic hair. 
This high-waisted savior
Bless these bottoms. Although these are unfortunately the only high-waisted pair there are, let's all be a little bit thankful that they exist. 
This mesh blessing 
Although these are admittedly smaller than the that high-waisted savior, these appear to be pretty full-coverage, designed to look more like underwear than an itty-bitty piece of fabric meant to cover your bits. 
This cheetah-print gift 
Cute and covers your pubes. What more could you want? 
Now, after much consideration, it's clear that the three above suits are literally the only ones you can sport with a full bush. However, that doesn't mean that you don't have options if you do want to shave juuuuuuust a little bit. 
For instance, there's this neoprene number. Although the bottoms are cut quite low (see on decapitated Kylie Jenner on the right), it's not impossible to wear them with pubic hair. 
The same goes for this tropical number. Although it is extremely high cut, it's doable with just a bit of shaving. 
Now, let's all join in a long, hearty laugh at all the ones that cannot accommodate a full bush. 
Haha! 
Hahaha! 
Hahahaha! 
Hahahahaha! 
As a note, none of these suits extends above a size 12, which means that not only are the Jenner sisters ignorant of our pubic hair, but also the millions of women who are above a Topshop size 12 (their clothing tends to run small). 
Next time, let's hope they think about a variety of different bodies and preferences. 
You can view the full collection here. 
Read more: