Michael B. Jordan Confirms Lupita Nyong'o Is Joining Marvel's 'Black Panther' Cast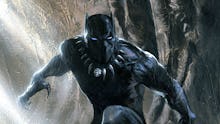 Marvel's Black Panther and actor Chadwick Boseman stole the show in Captain America: Civil War, and it's safe to say we can expect a similarly impressive solo outing in 2018. 
Marvel has Creed director Ryan Coogler — one of the most talented young filmmakers in Hollywood — lined up for the film, and followed up that news with word that Creed star Michael B. Jordan was cast to play a villain. Now, Jordan appears to have confirmed another casting for the film. 
As previously reported, Lupita Nyong'o was in talks to join Black Panther as well, but Jordan addressed the notion in a roundabout way during an interview with the Hollywood Reporter on Tuesday. When asked who he can't wait to work with, his answer was simple: "Lupita Nyong'o and Chadwick Boseman [in Black Panther]." 
"I'm super excited, especially to put a different spin on it," Jordan said. "I'm looking forward to working with Ryan [Coogler] once again. It's gonna be a good time." 
Jordan's certainly not the only one who thinks so. Twitter exploded at the news of Jordan's casting and Nyong'o's rumored involvement, and rest assured: Black Panther is indeed going to be very lit. 
Read more: Marvel's 'Black Panther' Is Going to Be So Lit, Says Twitter