Washington National Cathedral Will Remove Confederate Flags From Stained Glass Windows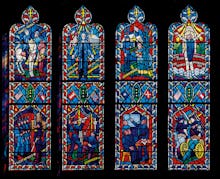 As the controversy around continuing to display the Confederate flag gains momentum, the National Cathedral in Washington, D.C., announced Wednesday it'll remove part of two 8-foot-by-4-foot tall stained glass windows that depict Confederate flags and honor generals Thomas Stonewall Jackson and Robert E. Lee. 
"We cannot in good conscience justify the presence of the Confederate flag in this house of prayer for all people, nor can we honor the systematic oppression of African-Americans for which these two men fought," the Rev. Gary Hall said, according to the Washington Post. 
For now, just the flags will be replaced with plain glass, so the rest can serve as "an opportunity for us to begin to write a new narrative on race and racial justice at the Cathedral and perhaps for our nation," the Rev. Kelly Brown Douglas said, according to a press release. 
Next month, the church will start its "public dialogue" with a panel discussion called "What the White Church Must Do," according to the release. 
Both the church's five-person task force and chapter unanimously decided to repurpose the windows and their meaning. In two years, the Chapter will discuss how to handle the rest of the windows. 
Private donors are expected to fund the removal of the flags, although a timeline has yet to be set.
In 1953, the United Daughters of the Confederacy lobbied for windows' installation as a way to "foster reconciliation between parts of the nation that had been divided by the Civil War," according to Hall.
Read more: Here's What Happened When a Church Tried Speaking Up About White Privilege on Facebook