Texas Valedictorian With Full Ride to College Attacked Online Because She's Undocumented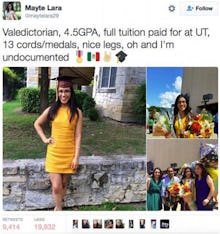 Mayte Lara wasn't allowed to celebrate her status as school valedictorian or her full ride to the University of Texas at Austin very long.
Online trolls began to harass her after she announced the fruits of her hard work — and said she was undocumented. 
"Valedictorian, 4.5 GPA, full tuition paid for at UT, 13 cords/medals, nice legs, oh and I'm undocumented," Lara wrote in the status, which was retweeted over 9,000 times. 
Lara is a resident of Texas, where undocumented students are eligible for in-state tuition and scholarships via Texas' HB 1403 law. 
The online backlash was so terrible that Lara left Twitter. Right-wing trolls commented on her undocumented status and even her body.  
Users, including provocative conservative journalist Milo Yiannopoulos, called for Lara to be deported and sent her memes reinforcing that point. Some also sent right-wing propaganda about the tax burden of undocumented immigrants, even though they contribute billions in tax revenue every year.
One user screenshot that he apparently reported Lara through U.S. Immigration and Customs Enforcement's tip form page, which the website says is to report criminal activity like transnational gangs and child exploitation.
Even the Lara's body faced criticism.
Some Twitter users defended Lara, including singer and style icon Solange Knowles. 
Lara is not the only valedictorian to face an online backlash in recent weeks. In May, Mari Filer graduated from her Alabama high school as a valedictorian with a 4.56 GPA and the internet couldn't help but hate on her success. 
That both students targeted were women of color speaks volumes about the nature of online harassment and who people online feel comfortable harassing, even when they're just trying to live their best life.
Watch as another Texas valedictorian, Larissa Martinez, delivers a powerful graduation speech about being undocumented: