President Obama Tells Jimmy Fallon He's "Worried About the Republican Party"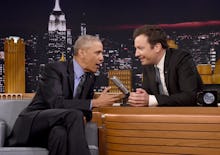 The real President Barack Obama — not this imposter version — will appear Thursday on The Tonight Show Starring Jimmy Fallon to talk successors. The episode was taped Wednesday, and according to Variety, Obama used it to address his hopes for Hillary Clinton and his fears about Donald Trump, the presumptive nominees for the Democratic and Republican parties, respectively. 
"The truth is I am actually worried about the Republican Party," Obama said, adding that "this country works when you have two parties that are serious and trying to solve problems." They may disagree, but they turn that into productive debate, rather than reality TV-style trash talk.
"You want the Republican nominee to be somebody who could do the job if they win," he continued, pointedly throwing shade at Trump. 
On the subject of Bernie Sanders, Obama was kinder, telling Fallon the Vermont senator "made Hillary a better candidate." 
"Bernie Sanders brought enormous energy and new ideas. And he pushed the party and challenged them," Obama said, adding that candidates "get a little ouchy" during primaries and he hopes the Democrats can "pull things together" in coming weeks. 
According to Reuters, Obama told a crowd at fundraiser Wednesday that "bruised feelings" incurred during the primary season didn't concern him, rather, his focus was on mobilizing people to vote. He'll be meeting with Sanders at the White House on Thursday morning.
Watch a clip from the episode below.
Read more: President Obama Laid the Smackdown on Gun Control During His PBS 'NewsHour' Appearance