Why Listeria-Related Recalls Are Popping Up in Walmart, Target and Everywhere Else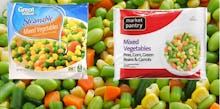 Check your freezers — there's been a massive, multi-state food recall this week. 
The National Frozen Foods Corporation issued a voluntary recall of frozen vegetables, the Food and Drug Administration stated. 
The National Frozen Foods Corporation, if you haven't heard of it, is a brand operating under several labels available in Targets and Walmarts nationwide. You'll want to be on the lookout for frozen vegetables from Target's Market Pantry or Walmart's Great Value that were distributed between September 2, 2015 and June 2, 2016. 
Yep, even vegetables aren't good for you these days. 
You can look up the specific UPC codes of the products recalled in the press release here.  
Here's what the brands look like: 
This is why they're being recalled: 
The National Frozen Foods Corporation believes these bags of veggies contain a possible risk of listeria, an organism that can cause serious infections in people with compromised immune systems.
Listeria is a helluva bacteria, and a common culprit when it comes to food recalls. It can be present in ready-to-eat deli meats, hot dogs, unpasteurized dairy products and smoked seafood like lox, according to the U.S. Department of Agriculture's food safety website. 
Unfortunately, listeria can actually survive in the fridge, unlike other germs that don't survive when refrigerated. It's not surprising that frozen vegetables might be contaminated by listeria — in 2015, Blue Bell Ice Cream also had a listeria scare, LiveScience reported. 
It's possible that the bacteria lurked inside drains or on a certain part of a food-processing machine, leading to contaminated food products, LiveScience noted. "It really likes cold, moist, dark environments," Benjamin Chapman, a food safety expert at North Carolina State University, told LiveScience. 
Here are the symptoms of listeriosis: 
According to the Centers for Disease Control and Prevention, symptoms of Listeriosis include fever, muscle aches and gastrointestinal distress. 
It might take up to two months after eating contaminated food for a person to show symptoms. The illness can be treated with antibiotics, the CDC noted.
Other common foodborne organisms include: E. Coli (causes diarrhea or UTIs), norovirus (causes nausea or diarrhea), salmonella (causes diarrhea and abdominal cramps), and campylobacter ( causes diarrhea and fever). So, anyone feeling queasy yet? 
One in six Americans becomes ill from eating contaminated foods each year, the CDC estimated. 
Check your veggies, cause ain't nobody got time for a crappy summer. 
Read more: