This Woman Staged an Angry Divorce Photo Shoot — And It's Cathartic As Hell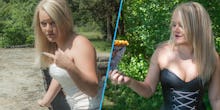 When it comes to the "I'm happy and well adjusted!" genre of social media performance, nothing is more puzzling than the consciously uncoupled couple that brags on Facebook about how much they "still love each other" and posts photos of themselves on Instagram having brunch.  
Whatever happened to good old-fashioned bitterness and anger?
Luckily, scorned Iowa woman Catherine Marie Meisenburg is here to set shit on fire and give us the kind of acrimonious divorce we all know and love. When her marriage dissolved, she posed for a divorce-themed photo shoot to commemorate the occasion, giving a literal middle finger to her (reportedly lying) ex.
Photographer Angela Josephine Ferraro told BuzzFeed that the shoot involved a "symbolic" element. Meisenburg starts out in her wedding gown and then — like a true bad bitch — rips it off to reveal a black corset and starts destroying shit.
Feel free to play "You Oughta Know" on full volume while looking at these photographs to really get the full effect.
The photos have since gone viral, prompting Ferraro to comment on her Facebook page about all the attention.
"We did these photos purely out of fun," she wrote. "We never thought in a million years that over 1 million people would see them."
(Mic has reached out for additional comment from both Ferraro and Meisenburg, and will update if we hear back.)
Check out the full album on Facebook: