Plus-Size Blogger Issues the Perfect Response After Instagram Removes Her Bikini Picture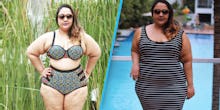 Aarti Olivia Dubey, a plus-size blogger and the founder of Curves Become Her, posted a picture on Instagram a few weeks ago of herself and two other women posing in bikinis. The photo memorialized something momentous: Dubey had been given the opportunity to be the first plus-size woman to write an article for a fashion magazine in Singapore, and the behind-the-scenes picture was from the photoshoot that'd accompany it. 
In the photo, Dubey and the two other women, who are both plus size, posed with their arms wrapped around one another smiling. "Do you know what we have in common?" Dubey wrote in the caption. "The belief that any body deserves to look good in what they wear." 
Hours after the photo was posted, it was taken down. According to Dubey's account, the photo had been reported for being inappropriate by multiple people. Dubey responded by going on the defense, reposting the image with a message to both Instagram and the people who had reported the image. 
"HOW is this image being hateful, hurtful, abusive, trolling or obscene?" she asked in the new caption. "Do three fat girls in swimsuits equate to gore, porn, racism, sexism? Or is it that people only want to see slim girls in swimsuits?" 
Over the following days (which then turned into weeks), Dubey was adamant she deserved not only an apology from Instagram, but that her photograph be restored. In taking the picture down, Instagram had done what the fat shamers ultimately wanted, and didn't take into account that the picture they took down wasn't inappropriate in the least. 
"The expectations placed on our bodies and appearance is unrealistic since we don't all look the same but we're expected to be a size four with fair skin and delicate features," Dubey told BuzzFeed. "There is a lot of shame and hiding behind the shadows as a plus-sized person. Reclaiming that shame in order to have fun with fashion and finally wear outfits that I love, has been life changing." 
Two weeks after Instagram's oversight, they sent her a letter of apology. "A member of our team accidentally removed something you posted on Instagram," the letter read. "This was a mistake, and we sincerely apologize for this error." 
And just like that, the photograph was restored. 
Dubey, who Mic has reached out to for comment, still wasn't completely pleased, given how long it had taken for Instagram to apologize.
"Check your latent fatphobia," Dubey wrote in the caption. "Check your guidelines and policies. Take better care of the people who use your services as a means of staying connected to oceans of people who just want to exist as people. Fat, brown, LGBT, disabled and many other intersections deserve RESPECT and not to be trolled by anonymous private accounts with no life." 
Rather than letting this one slide, Dubey, with the power of a few well-worded Instagram rants, was able to stick up not only for herself and her fellow plus-size women on Instagram, but for the many different types of people who often suffer online bullying. 
"Being at ease with yourself and enjoying a jaunt to the pool should not be controversial," Dubey told BuzzFeed. "Life is far too short to be worrying about what people might say." 
Or even, actually, what Instagram might accidentally do. 
Read more: