Bernie Sanders Appears to Plot Exit Strategy After Meeting With Obama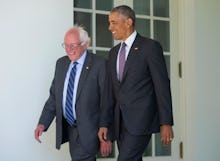 Sen. Bernie Sanders seemingly changed his plans for the future of his campaign on Thursday after a meeting with President Barack Obama at the White House, saying he plans to bring his "issues" to the Democratic National Convention in July — not his hopes for the nomination.
Sanders emerged from a roughly hour-long meeting with Obama with a more conciliatory tone, thanking Obama and Vice President Joe Biden for their "impartiality" through the nominating contest, and vowing to work together with Hillary Clinton "to defeat Donald Trump and to create a government which represents all of us and not just the 1%."
Read more: Howard Dean Says Bernie Sanders "Could End Up Being the Next Ralph Nader"
But Sanders did not say he was exiting the race just yet.
He said he will still contest the June 14 primary in Washington D.C. — the final race on the primary calendar. Sanders is expected to lose handily to Clinton in the District of Columbia, which has a large number of minority and wealthy primary voters — who have broken heavily toward Clinton in other contests.
And he added that he will still fight for the causes he holds most dear — including income inequality and Wall Street regulation — at the Democratic National Convention in July.
"These are some issues that many millions of Americans have supported during my campaign, and these are the issues that we will take to the Democratic National Convention in Philadelphia," Sanders said.
But Sanders seemed to suggest he is ready to begin the process of uniting Democrats against Trump.
He said that he "spoke briefly" to Clinton on Tuesday night, and "congratulated her on her very strong campaign" — the most generous statement Sanders has made to date to his primary foe.
And he added that he will, "Work as hard as I can to make sure that Donald Trump does not become president of the United States."
Democrats, including Sanders' own supporters, had been urging Sanders to begin the unification process after Clinton's Tuesday victory — which all but erased any chance Sanders had at the nomination.