Noah Galvin Drops a Bombshell Accusation Against Bryan Singer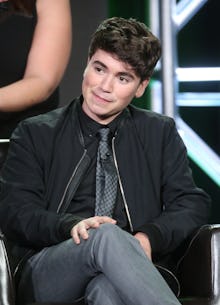 June 9, 2016, 11:15 p.m. ET: After this story's publication, New York magazine removed the quote in question from their story. "In an interview format, we generally let the subject speak their mind," the editor explained in a note. "But this is a contentious issue, and after consideration, we decided to delete the reference."
We've added a screenshot of the original quote below. 
Later Thursday evening, Noah Galvin tweeted a statement apologizing to Singer for his quote. "My comments were false and unwarranted," he said. Read the full statement below.
Original story: The Real O'Neals star Noah Galvin pulls no punches in a new profile with New York magazine's arts vertical Vulture — and lobs a major bombshell in the process.
In the interview, the 22-year-old gay actor talks about nearly every subject related to being out in Hollywood, including about a possible "industry network" of gay men. Galvin's answer:
Yeah. Bryan Singer likes to invite little boys over to his pool and diddle them in the fucking dark of night. [Laughs.] I want nothing to do with that. I think there are enough boys in L.A. that are questionably homosexual who are willing to do things with the right person who can get them in the door. In New York there is a healthy gay community, and that doesn't exist in L.A.
Singer is a director best known for his work with the X-Men franchise, including the recent X-Men: Apocalypse. In 2014, Singer was sued and accused of sexually assaulting a man named Michael Egan when Egan was 17. The suit was dropped, but the story left an impact.
In 2014, both BuzzFeed and the Gawker blog Defamer reported on a circuit of pool parties that Singer and friends threw and participated in filled with scores of young (but reportedly of-age) men.
Galvin's comments come on the heels of actor Elijah Wood reportedly talking about sexual abuse in Hollywood in an interview with the Sunday Times. He described the system as aiding "a lot of vipers" preying on underage people. He later walked those comments back, saying, "I have no firsthand experience or observation of the topic, so I cannot speak with any authority beyond articles I have read and films I have seen."
Read Galvin's full interview here.
Read more: