Israel Suspends 83,000 Travel Permits for Palestinians During Ramadan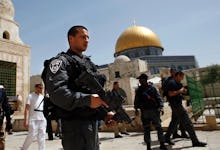 After two gunmen killed four people in a popular Tel Aviv market on Wednesday night, Israel has responded by revoking 83,000 permits from Palestinian Muslims observing the holy month of Ramadan, according to Haaretz.
"All permits for Ramadan, especially permits for family visits from Judea and Samaria to Israel, are frozen," Israeli authorities announced. Judea and Samaria is more commonly known as occupied West Bank, and as reported by Haaretz, Palestinians living in the Gaza Strip will also have their permits frozen.
These Ramadan permits are used by Palestinians to visit the Al-Aqsa Mosque on the Temple Mount — the third-holiest site for Muslims — for prayer services, as well as to visit families in Israel. Palestinians often undergo checkpoints and interrogation before entering Israel for work and for medical, family and religious visits. Coordination of Government Activities in the Territories (COGAT), a unit dealing with civilian affairs in the Israeli Defense Ministry, stated they will be increasing military presence in the West Bank in response to the attack.
The Tel Aviv attack comes after 183 Palestinians and 28 Israelis were killed amidst intense violence between the two regions, according to the Guardian. The two gunmen were reportedly Palestinians disguised as Orthodox Jews, and were from the Hebron neighborhood in the West Bank.
Some fear that the response by the Israeli authorities will cause more anger and social unrest, while others have regarded it as an act of collective punishment on Palestinians. 
It's a shame to see thousands of people punished for an attack orchestrated by two gunmen — especially during Ramadan, where Muslims engage in daylong fasts and prayers for peace.