'Real O'Neals' Star Noah Galvin Calls Colton Haynes' Coming Out "F*cking Pussy Bullshit"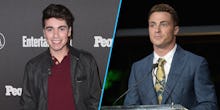 June 9, 2016, 11:25 p.m. ET: After this story's publication, Colton Haynes released a statement on his Instagram account addressing Noah Galvin's comments. "I've never met this kid," he explained. "Since when did he become the judge of what's appropriate?" Read the full statement below.
Later Thursday evening, Noah Galvin tweeted a statement apologizing to Haynes for his quote. "I have no right to dictate how or when anybody comes out of the closet," he wrote. Read his full statement below.
Original story: Noah Galvin, 22-year-old gay man and star of The Real O'Neals, started quite a few fires in his new New York magazine profile. In addition to describing director Bryan Singer as a man who "likes to invite little boys over to his pool and diddle them in the fucking dark of night," he had choice words for newly totally out (and previously kind-of-out) actor Colton Haynes.
Upon being asked if he knows Haynes, Galvin simply responds, "The worst." When pressed about Haynes' coming out, and specifically about not actually saying the words "I'm gay," Galvin opens the floodgates.
That's not coming out. That's fucking pussy bullshit. That's like, enough people assume that I sleep with men, so I'm just going to slightly confirm the fact that I've sucked a dick or two. That's not doing anything for the little gays but giving them more masturbation material.
In an interview with Entertainment Weekly, Haynes said he "should have made a comment or a statement, but I just wasn't ready." 
"I didn't feel like I owed anyone anything," he said. "I think in due time, everyone has to make those decisions when they're ready, and I wasn't yet. But I felt like I was letting people down by not coming forward with the rest of what I should have said."
Read Gavin's full interview here.
Read more: