High School Grads Ditch Traditional Senior Portrait Backdrops ... for Taco Bell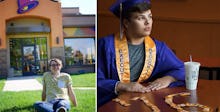 Cool kids across the nation are ditching senior photos posed in pastoral fields studios surrounded by sports memorabilia for something with a little more flavor.  
A number of high school graduates-to-be are bringing professional photographers along to Taco Bell locations to snap memory-making photos alongside sassy hot sauce packets and brightly lit menu boards hawking tacos made from Doritos taco shells. A picture's worth a thousand words.
The first person to ignite the cheesy trend was Brittany Creech, whose cheeky Taco Bell senior portraits made headlines in 2015. 
And, according to the chain, she appears to have kicked off a nationwide phenomenon: 
Evan Foraker, a 2016 grad, posted of one of his senior photos on Instagram, where he was portrayed looking wistfully out of a window of a Taco Bell while wearing his cap and gown. In front of him was "'16" — his graduation year — crafted out of mild hot sauce packets.
Another teen named Sam Siggard decided to sit casually beside a Taco Bell drive-thru sign with a half eaten taco in hand. 
Kelton Sullivan posed with 19 Beefy Crunch Burritos — a limited time menu offering. He gets extra credit for the banana t-shirt and the seriously jazzed expression he manages to maintain throughout the shoot. His grandchildren will be proud.
So there you have it, the class of 2016 is really living más. Perhaps next year's cool spot will be McDonald's, where seniors will take photos posing with their graduation money stuffed inside a cheeseburger.