Tasya van Ree Says Amber Heard Was "Wrongfully Accused" of Assaulting Her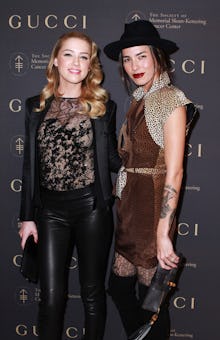 On Tuesday, TMZ reminded readers that Amber Heard had, in 2009, "grabbed and struck" then-girlfriend Tasya van Ree on the arm during an airport altercation. Heard, who recently filed for divorce from, as well as a restraining order against, her husband Johnny Depp on grounds that he physically assaulted her, was allegedly an abuser herself, according to the tabloid. On Wednesday, van Ree clarified her side of the story in a statement to People.
"In 2009, Amber was wrongfully accused for an incident that was misinterpreted and over-sensationalized by two individuals in a power position," she said.
Since Heard testified that Depp drunkenly hit her in the face with her phone and became violent during an argument, many fans of the 52-year-old actor have spoken out in support of him, claiming Heard is just after his money. But the 30-year-old has offered evidence, and witnesses have come forward to defend her as well. Heard and van Ree broke up in 2012 but have stayed close; van Ree explained in her statement that she's sorry to see her ex get dragged for speaking up.
"It's disheartening that Amber's integrity and story are being questioned yet again," van Ree's statement continued. "Amber is a brilliant, honest and beautiful woman and I have the utmost respect for her."
Read more: