'Hamilton' Ticket Prices Are Going Up — Here's How to Get Discounted and Cheaper Tickets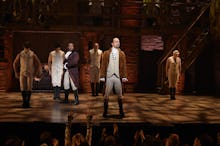 Unless you can get your own in-house performance — and probably not, because you (probably) aren't President Barack Obama — getting tickets for Hamilton is, suitably, going to cost at least a few dozen Alexander Hamilton bills. The hit Broadway show is sold out until 2017 for those looking for face-value tickets, with premium seats now at $849. 
That's all well and good, but waiting that long means — along with demanding a huge amount of patience — theatergoers would miss out on seeing Hamilton creator Lin-Manuel Miranda in action, as he will be leaving the show in July once his contract expires. 
Thankfully, there are other ways for eager theatergoers can grab Hamilton tickets without breaking the bank. However, be warned: It's not going to be easy, might not always be cheap and will likely require a bit of luck. 
The Hamilton lottery: Each performance has 21 seats that are available in a daily lottery (if you win, the ticket costs just $10, fitting for the play about the man on the bill). But, of course, winning that lottery requires a lot of luck. According to the show's website, around 10,000 people enter the lottery daily, so statistically, your chances of grabbing a ticket are less than 1%. 
In short, those are tough odds. To see that desperation in action, one New Yorker has been chronicling his attempts on a Facebook page titled, "Will Mark Levy ever See Hamilton?" As of June 1, he is 0 for 32. Godspeed, Mark. 
The resale market: Reselling tickets is commonplace for the likes of sporting events, concerts and Broadway shows. The trick, however, is to not be duped into fake online tickets. Miranda himself has told people to err on the side of caution on Craigslist, for example, saying that he has had friends who have been scammed on the site with faux Hamilton tickets.
The real ones would cost quite a fee, though, with news of Miranda's departure skyrocketing prices to as high as $10,000. But, to those willing to mortgage their financial future for an amazing performance, where to go? 
StubHub is the best bet. Aside from its reputability, the site does "protect" its users by promising refunds or, if possible, comparable replacement tickets if the tickets purchased don't arrive in the mail on time. 
Though, to be fair, there wouldn't be anything "comparable" to Hamilton — given its record-breaking 16 nominations at this year's Tony Awards. The StubHub Ticket Oak would really have to live up to its name.  
Cancellation seats: Sitting outside the box office is an old-school, but effective, way to gain tickets for most shows. But again, most shows aren't Hamilton. Some fans have even waited in line starting the night before just to try and snatch tickets for the following evening's show — like Robert Samuel, who told Vulture in March he had been routinely waiting in the line beginning at progressively earlier hours since December.
However, if you are able to get a ticket — as one Reddit user documented of his cancellation-line-waiting experience — the show is worth the grueling wait. Plus, per the redditor's post, paying $167 for Hamilton is a relative steal. "Waiting all day was totally worth it," redditor gab_the_bomb wrote. "The show is beyond words." 
Read more: