Brock Turner Will Only Serve 3 Months of His 6-Month Sentence for Sexual Assault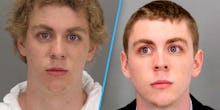 Former Stanford student Brock Turner will serve just three months of his six-month sentence, a document on the Santa Clara County's Depart of Corrections website reveals. Turner was convicted in March on three felony counts of sexual assault. 
According to Turner's inmate details, which are available to the public, he will be released on Sept. 2, 2016.
Public Information Officer Sgt. James Jensen, from the Santa Clara County Sheriff's office, said over the phone the date that appears on the site is indeed when the court has instructed officials to release Turner, although he could not say that the sentence has been formally shortened.
When asked if it's possible that the release date suggests Brock may be moved to another corrections facility, Jensen said, "That would not be a possibility." 
"If it says he's getting released on that date — unless there's some special circumstance and he receives new criminal charges while in prison and were to be charged — that is the date of his release," said Jensen.
An unnamed representative from the same sheriff's office told TMZ that Turner is being held in "protective custody" away from any inmates who aren't also in protective custody, and will have an escort who will accompany him on prison grounds.
According to the representative, Turner was eligible to receive these protections by virtue of him serving time for sexual assault and "those type of inmates are often targeted," wrote TMZ staff.
Mic is reaching out to court officials for comment and will update this story as it develops.
Read more:
June 9, 2016, 3:53 p.m. Eastern: This story has been updated.
Correction: Aug. 23, 3016