Court Rules 2nd Amendment Won't Cover Right to Concealed Carry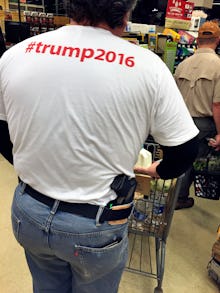 A federal appeals court ruled Thursday that the 2nd Amendment does not give people the right to carry concealed weapons in public, according to the Associated Press.
The 9th Circuit Court of Appeals in San Francisco voted seven to four in favor of a state law obligating gun owners to demonstrate "good cause" when applying for concealed carry permits, the Los Angeles Times reported. The judges did not address the larger issue of whether or not it's legal to openly carry a firearm in public.
"The protection of the Second Amendment — whatever the scope of that protection may be — simply does not extend to the carrying of concealed firearms in public by members of the general public," the court ruled, according to NBC.
According to the Times, the decision comes after 9th Circuit judges challenged the San Diego Sheriff Department's "good cause" law in February 2014, calling it "overly restrictive." California's Attorney General, Kamala Harris, appealed their ruling, resulting in Thursday's decision. 
"Because the Second Amendment does not protect in any degree the right to carry concealed firearms in public, any prohibition or restriction a state may choose to impose on concealed carry — including the requirement of 'good cause,' however defined — is necessary allowed by the Amendment," read the majority opinion, according to NBC.
Naturally, that opinion didn't come without dissent: The four judges who opposed the ruling argued that, because California prohibits citizens from carrying guns out in the open, the decision infringes on the Second Amendment, the Times reported. 
The same court ruled on May 16 that the Second Amendment grants people the right to buy, sell, own and bear firearms.