These Charts Show How Drastically Pop Has Changed Over the Past 50 Years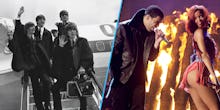 "Pop" music is difficult to define sonically — but like pornography, people know it when they hear it. 
The Beatles, Pink and Drake have all defined the genre at different points in history, though most people wouldn't likely plot Sgt. Pepper's Lonely Hearts Club Band, Missundaztood and Views on the same musical venn-diagram. It's all pop to the Billboard charts though, and a new data visualization project from statistics analyst Kaylin Walker can help explain how "pop" has mutated to describe them all over the past 50 years.
By comparing and contrasting the top songs on Billboard's year-end Hot 100 charts from 1965-2015, Walker uncovered common elements that most chart-toppers share and identified the musical elements that characterize the genre decade to decade. 
By and large our songs have gotten longer, wordier and far more explicit as time has gone on.
Pop's most frequently used words have remained relatively consistent over the course of history. Words like "love," "good," "like" and "life" can be found equally in equally prominent spots in Drake's "One Dance" and The Beatles "Love Me Do." The narratives and images we've used to tell these stories are all that have changed.
From "boogie" to "bitch": According to Walker's lyrical breakdown, words like "boogie" stood out as the most common, unique word from the disco-fueled '70s, while words like "club," "bitch," "rack" and "fuck" more accurately characterize the pop hits of the '00s and the '10s. 
"The easy interpretation is that the quality of pop music has declined over time," Walker said in an email conversation, summing up the response her piece has gotten. "But I think it's more complex than that." 
Hip-hop's entrance into the mainstream has obviously had a major impact. As Walker notes, "'club,' 'go head' and 'shorty' in the 2000s are almost surely from 50 Cent's 'In Da Club.'" But hip-hop is hardly the only factor, and equating hip-hop's prevalence with any sort of degradation of pop is to fundamentally misunderstand how genres develop.
"The easy interpretation is that the quality of pop music has declined over time, but I think it's more complex than that." 
"Hip-hop is just like every genre," Bob Power, award-winning record producer, mixer, engineer, musician and current professor at New York University's Clive Davis Institute of Recorded Music, said in a phone conversation. "It goes through its own maturity cycles. Think about the '90s when hip-hop was all about guns. That passed."
Power was actually surprised that it took as long as it did for hip-hop to become as sexualized as older genres, like R&B and good ol' rock 'n' roll.
"Until eight or nine years ago, hip-hop and R&B were not explicit about sex and body parts," he continued. "Whereas, rock 'n' roll is all basically about sex, arguably, all the way back to Chuck Berry and his hit 'My Ding-a-Ling.' I was surprised it took so long for modern hip-hop and R&B to catch up. From the early 70s until the early 00s was more about romantic notions than it was about sex."
If anything, hip-hop is making today's pop more diverse in terms of its lyrical content, as Walker's charts also show. The number of unique words per song has been steadily climbing since hip-hop's birth in the late '70s.
"Hit songs have always been repetitive," Bonnie Hayes songwriter for Cher, Bette Midler, David Crosby and current chair of the songwriting department at Berklee College of Music. "If anything, hip-hop songs seem less repetitive to me. If you listen to the Kendrick Lamar record it seems to have less repetition and more varied content than a Beatles song from the '60s. That's gonna make a lot of people mad, but look at the data and you'll find it true."
Power believes the real motivating factor behind today's explicit pop is the sensationalist culture that tends to make stars out of the boldest, most audacious entertainers — figures like Kim Kardashian and Donald Trump and musicians like Desiigner and the Weeknd.
"Now, part of getting people's attention is doing things that are so lurid that people sit up and watch," Power said. "It doesn't really matter what the worth of that act is, whether its a song or a video or something you do in person somewhere."
Stevie Rennie, former senior VP at Epic Records and founder of music business mentoring platform Renman Music and Business, agreed with this impression in a previous interview concerning YACHT's sex-tape publicity stunt. 
"The ante of what it takes to get attention in today's world is going up," he said. "If you were betting high or low on whether the world is going to get more outrageous or more subtle, I'm going to load up on it getting more outrageous."
In another 50 years, Rennie and Power will get to see if that's true. Check out the whole of Walker's project here for more charts analyzing career lengths and the one-hit wonder phenomenon.