"I'm With Her": Obama Formally Endorses Hillary Clinton for President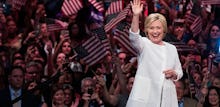 President Barack Obama endorsed presumptive Democratic nominee Hillary Clinton in a video released on Thursday, saying there's "never been someone so qualified" to be president as Clinton.
"She's got the courage, the compassion and the heart to get the job done, and I say that as somebody who had to debate her more than 20 times," Obama says in the video.
Read more: Bernie Sanders Appears to Plot Exit Strategy After Meeting With Obama
Obama's endorsement comes two days after Clinton clinched the Democratic nomination with big wins in California and New Jersey, and just hours after Obama met with Sen. Bernie Sanders in the Oval Office.
In the video, Obama also makes a plea for party unity, appealing to Sanders' voters by praising the Vermont senator's campaign.
"I had a great meeting with him this week, and I thanked him for shining a spotlight on issues like economic inequality and the outsized influence of money in our politics, and bringing young people into the process," Obama said in the video. "Embracing that message is going to help us win in November."
Obama added that both Clinton and Sanders have a lot in common, and urged those who "feel the Bern" to back Clinton's candidacy.
"Secretary Clinton and Sen. Sanders may have been rivals during this primary, but they're both patriots who love this country and they share a vision for the America that we all believe in," Obama said in the video.
The video was released as Sanders and Senate Minority Leader Harry Reid were meeting on Capitol Hill.
And Sanders was silent when reporters asked his for his thoughts on the endorsement.
Clinton, for her part, thanked Obama for the endorsement in an interview with Bloomberg Politics.
"It just means so much to have a strong, substantive endorsement from the president. Obviously I value his opinion a great deal personally," Clinton told Bloomberg. "It's just such a treat because over the years of knowing each other, we've gone from fierce competitors to true friends."
Presumptive GOP nominee Donald Trump, in a tweet, suggested Obama will be a liability for Clinton in the general election.
Clinton had a biting response.
The Clinton campaign said in a statement that Obama will travel with Clinton to Wisconsin for a campaign event, which will be the president's first formal foray into the presidential campaign. The pair will appear in Green Bay, Wisconsin, on Wednesday, June 15.
Stefan Becket contributed reporting.