Footage Shows Officer Tasing Teen, Dropping His Limp Body on Pavement During Traffic Stop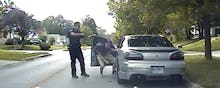 Police were ordered by a federal judge on Monday to release dashcam footage that shows a former officer using a Taser stun gun on a teenage boy until he sustained brain damage during a routine traffic stop in Missouri in 2014.
Bryce Masters, who was 17 when the incident occurred, was pulled over by former Officer Timothy Runnels, who initially told authorities that he made the stop because the license plate of Masters' car was linked to an outstanding arrest warrant. Later, he said that he had smelled marijuana in the car, a small amount of which was found in Masters' pants pocket.
In the footage, the former officer moves to the driver's side of the vehicle and opens the door after the teen hesitates to roll down his passenger window, and begins demanding that Masters exit the vehicle.
After an extended back-and-forth, during which Masters repeatedly asks, "Am I under arrest?" Runnels deploys his Taser for a full 23 seconds — the equivalent of discharging the weapon four individual times, and enough to cause the teen to go into cardiac arrest.
The footage also shows Runnels dropping Masters' limp body to the concrete after putting him in handcuffs. According to the Huffington Post, it was that drop on the pavement — not the use of the Taser, which police argued is standard practice — that ultimately violated Masters' constitutional rights.
According to FOX4KC, a judge sentenced Runnels to for years in prison on June 1.
During the sentencing hearing, Masters addressed the court, telling them he suffers from memory loss ever since the incident took place.
"People tell me I'm different," he said. "I feel different. I get in the car to go somewhere and then I'll forget where I was going. I've missed job interviews because I forgot them."
Read more: