Hillary Clinton Shuts Down Donald Trump: "Delete Your Account"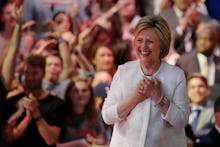 Hillary Clinton dropped the mic on Donald Trump Thursday, telling him to delete the Twitter account he's used to pick fights and push his policy positions throughout the race.
Clinton's tweet was a reply to Trump, who bashed President Barack Obama after he endorsed Clinton's campaign.
Even non-Clintonistas were amused:
Trump himself was not:
That's one way to head into the general election.
4:53 p.m.: This story has been updated.